An Open Letter to Latter-day Saint Detractors of W. Cleon Skousen and His Works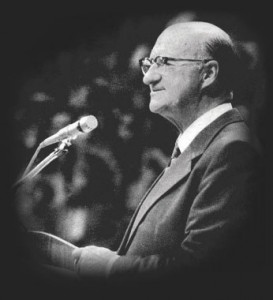 In 2005, the year before his death, I had the opportunity to learn from a modern-day Founding Father, W. Cleon Skousen.
I, and others, sat before him as we studied the book,
The 5000 Year Leap
, asked questions and received commentary directly from the principle author of the book,
Dr. W. Cleon Skousen
. The research that went into the writing of this book was done at the request of past president of the LDS Church, David O. McKay. This research is also what led to other great books:
The Making of America
and
The Majesty of God's Law
. In the forward of
The Majesty of God's Law
, Skousen wrote:
"In 1967 a great leader (David O. McKay) whom I admired and loved said that a crisis was coming to America and the legal minds of the nation were not getting ready to deal with it.
"He indicated that the Founding Fathers knew this would happen and they knew what to do about it. He suggested…that I take time to get acquainted with the things the Founders knew…
"So, for over a quarter of a century I have been struggling to put it all together. This book is the result of that labor…"
Previously this same modern-day Prophet, David O. McKay, endorsed Skousen's book,
The Naked Communist
, in LDS General Conference (
1
), and so did another Prophet, Ezra Taft Benson, on multiple occassions. (
2
) (
3
) (
4
).
President McKay had also asked Skousen to write the book
.
As I studied with W. Cleon Skousen I came to know a man who is filled with Christ-like love for others, and has a dedicated commitment to truth. When I read of others criticizing, mocking and mischaracterizing Skousen, I am very disappointed, especially when this is coming from fellow Latter-day Saints, many of whom have never even read his books, and could not cite one disagreement they have with his teachings.
W. Cleon Skousen researched, understood and taught the principles of Freedom; he was also very knowledgeable on other doctrines of the Gospel of Jesus Christ. I'm certainly not saying he was perfect and without fault or error; unfortunately Skousen's detractors are not concerned with truth and simply jump to false conclusions. Skousen's detractors also seem to ignore the fact that his books were so well-researched and documented. Skousen also had the
assistance of other expert researchers
.
In my earlier years of becoming a
Constitutionalist
, learning the
principles of freedom
and
the proper role of government
, I mostly turned to Skousen's books to find answers to my questions because of the fact that he so often quoted the direct words of the Founding Father's on the subjects of my questions.
You might ask why I would bother to write a letter defending Skousen's character? I know the fruits of his labor and they are good fruits. The things Skousen taught will only bring a person to the truth and closer to Christ.
I like to use the saying, "attack the message, not the messenger". In the case of Skousen, both the message and the messenger are deserving of much respect.
Don't just take my word for it. I now call in another witness to speak of W. Cleon Skousen's character and works in life…
Thomas S. Monson
, President of the Church of Jesus Christ of Latter-day Saints, a living prophet, seer and revelator.
At the funeral of author W. Cleon Skousen, Thomas S. Monson recited, from memory, a passage found in
The First 2,000 Years
(by Skousen). President Monson said that he had previously quoted this to a man who had asked about Skousen's character:
"Often the wisdom of God is foolishness to men, but the greatest single lesson to be learned in mortality is that when God commands and a man obeys, that man will always be right."
President Monson also said: "Everyone he spoke to, everyone he taught, is closer to Christ than before they met Cleon Skousen."
Other comments made at Skousen's funeral by President Monson, who at the time was the first counselor in the First Presidency of the Church:
"He (Cleon Skousen) has lived a wonderful life, extended, look at all these years, but he has never ever deviated."
"…and the song that Cleon Skousen is hearing: 'well done thy good and faithful servant; thou hast been faithful over a few things, I will make thee ruler over many things: enter thou into the joy of thy lord.'"
President Thomas S. Monson went on to read a message from the LDS First Presidency (Gordon B. Hinckley, Thomas S. Monson, James E. Faust) to Skousen's wife, Jewel. Some excerpts from that letter:
"We were saddened to hear of the passing of… our friend" President Monson then interjected "The Savior used the word Friend…"
"Skousen was indeed an extraordinary man who set a high standard of integrity and achievement…"
"His fierce loyalty to our country and his attempts to protect our freedoms are well-recognized. As he lifted his voice, both in the books he authored and the speeches he delivered, he was a powerful influence for good…"
"His vision and achievements will remain a lasting legacy and blueprint for others to follow…"
After reading the letter, President Monson also said:
"Our lives are better because of him whom we honor."
(
Listen to audio excerpts of President Thomas S. Monson speaking at W. Cleon Skousen's funeral
)